First, it goes back a very long way. He doesn't stray a specific distance, but far enough to give himself the time and space to find a rhythm. At the top of the mark, he lifts the ball with both hands in front of his face, to visualize the flight path.
He looks at the ground. He looks up again and refocuses on a person in the crowd. He runs until he finds a rhythm, relaxes and feels comfortable.
He kicks and most importantly, like a bowler, he tracks in a straight line to maintain momentum in the right kick. He focuses on righteousness in everything he does: running, kicking and following.
He's still learning his technique with little things that creep in, like his toe pointing outward instead of straight ahead.
He makes sure his body stays upright and doesn't bend over too soon to check the result.
In training, Brown has 30-40 minutes of kicking practice each session from different angles and needs to score three straight goals before stepping off the track. He likes to play mind games with himself, imagining that will be the winning move. That works.
Steve Johnson, ex-Geelong and GWS
Johnson knew the hail of abuse he would inflict if it didn't work. Show the pony. Lair.
But he did it anyway.
It takes a certain mindset to do something drastic knowing the criticism you're going to receive, but being so sure of yourself that you do it anyway. Johnson made it work and changed football.
He was the first to take a set piece for the goal and opted to stand to the side and kick his body. Now everyone does.
Previously, players had played, run and kicked. Johnson didn't do that. Deliberately standing at the mark, turned sideways and without running – and giving the opponent a chance to close their space and pressure them to change the position of the ball in their hands – he kicked.
"I knew coming into the game I was going to do it if there was a set piece. Back when you knew you were exposing yourself to criticism. I knew I would be accused of lairising and being complacent, but for me it was the play percentage, I knew that would give me the best chance to pitch it," Johnson said. Age.
"Everyone knows I was a risk taker with the ball in hand. I wasn't afraid to take a kick in the middle of the floor and if I missed it didn't mean I was going to I would probably tell myself if I missed that I'm not going to miss two in a row. I had that kind of mindset, so it didn't really weigh on me.
"[Mark] 'Bomber' [Thompson] was a coach. I gave one out of the right foot pocket against Carlton at Etihad when I was 30-35 and shortly after I got one on the other side and gave one out of the left foot and there was quite a bit of post-game publicity about it."
Historian Malcolm Gladwell once did a podcast on basketball great Wilt Chamberlain.
Chamberlain was a brilliant player but a terrible free throw scorer. In desperation, Chamberlain began throwing underarm or bucket shots.
His conversion exploded, he was obviously a better player doing the unconventional or unpopular underarm throw. Still, he gave it up and went back to throwing regular headbutts and his conversion dropped again.
Chamberlain, Gladwell said, couldn't deal with the stigma, the teasing of throwing like a kid with his "nanna throws," so he quit. He would rather be a worse player than a teaser.
For Johnson, the difference was that this type of shooting had no stigma. It was, in fact, kind of cool and inventive.
"I kept doing it and some of my teammates got good at executing the same kick and then it became very popular.
"It's like Adam Scott going from a normal putter to a broomstick and exposing himself to criticism. But he knows that if he's going to take 10 putts, he'll hit seven with the broomstick instead of six with the putter.
Josh Kennedy, West Coast
The West Coast champion, like Brown, has a unique style. Kennedy stutters, jumps and twitches in his run but at the point of contact he is perfectly calm, in line and knows exactly where he wants to aim the ball.
Kennedy focuses on the smallest possible target behind the bases. First, he might find a letter on a sign. Then he looks even closer and just aims for the corner of a letter in the background.
He told Wheadon he was focusing on his right index finger to make sure the ball was lined up with the target. He forgets the possibility of missing and concentrates on his technique.
He measures a point six meters from the person on the mark and knows that is exactly where he will make contact.
He waits 6-10 seconds at the top of his momentum and doesn't like letting the ball slip out of his hands. He takes 20 steps, starting with four walking steps before increasing speed, then stutters until he feels ready, then runs, focusing on balance in the last three steps. It emphasizes being straight, especially on contact momentum.
Jack Darling, West Coast
Darling has a simple but effective technique.
"At first I take a few deep breaths to make sure I'm in line with the goals. I always start on the left leg. At first I walk four steps, then I take six or seven until that I feel balanced. I'm just guessing the distance of the man on the mark," he told Wheadon.
"I look at the goals, then the ground on the run-up and finally the seam on the ball on contact."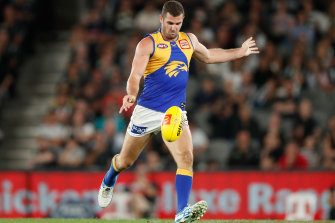 Luc Breust, Hawthorn
Luke Breust is one of the AFL's most accurate kickers. He knows his technique – or his techniques, because he modifies it depending on where he is – so intimately that it is metronomic.
Former Hawthorn assistant David Rath calculated that Breust's optimum kick and distance to goal for accuracy and ball form was 48 yards, with the player on the mark at around 40m of the goal.
So Breust is aiming to kick that shot from 48m even when he strikes closer to the goal.
His routine takes 10-12 seconds. He thinks players looking at the clock to maximize the 30 seconds they are allowed to shoot can distract them.
At the top of his mark, he finds a target in the front rows behind the goals.
He lowers his head, spins the ball three times to feel, then does three arm extensions to relax. Then he looks at his target.
The number of steps he takes depends on how he feels, but he is wary of getting too close to the goal.
He usually sees his foot make contact with the ball.
He holds the ball with his right hand low and closer to the front of the ball than his left.
If he is further from the goal, he tilts the ball back a bit to expose the fat part of the ball to have a bigger contact area, so the ball goes further.
If he's closer, he holds the ball straighter to get more spin and so it holds its line.
In training, Breust takes two 15-20 minute penalty shootouts a week, aiming to drop the ball into a wheelie bin 48s away. He is "constantly" training in dribbling.
Jack RiewoldtRichmond
The Tigers champ discovered on a clay shooting trip to Texas that despite being right-footed and right-handed, his left eye is dominant. He was aiming for clay targets and still missing a target, then changed his eyes and found he was much more accurate.
How this translates to soccer is that for a standard set piece, he uses his dominant left eye to line up the laces of the ball with the middle of the goals.
For set pieces, he likes a high trajectory with lots of spin, as this will help the ball keep its line.
He tries to keep a low ball, leaning at the hips with his torso above the ball. He once practiced this low body position with assistant coach Mark Williams by imagining that he was standing at one end of a small pool table and leaning forward to put the ball in the farthest pocket. right.
The Art of Goalkicking by David Wheadon is published by Slattery Publishing and distributed by Hardie Grant. Available in bookstores.
Keep up to date with the best AFL coverage in the country. Subscribe to the Real Footy newsletter.